2019 Overnight Program
April 11-13, 2019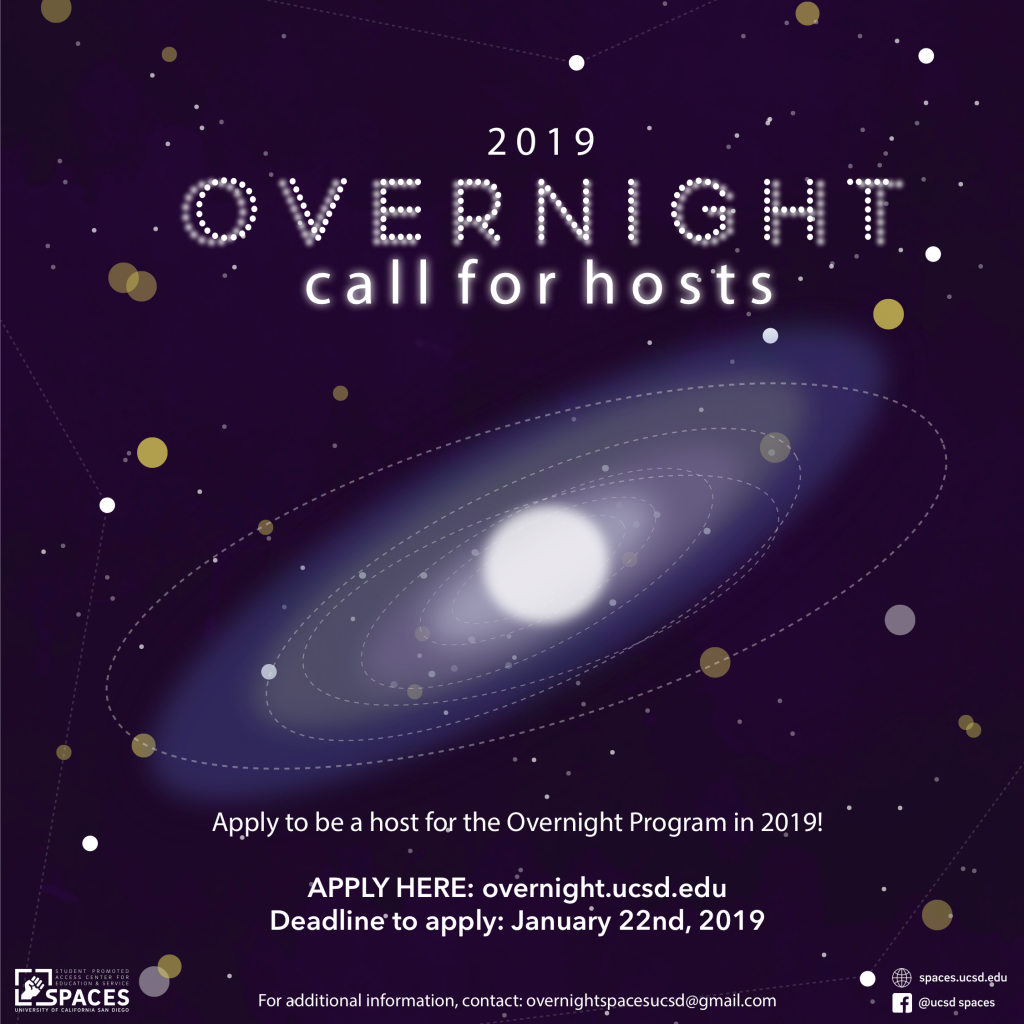 This is an invitation-only program for select UCSD-admitted high school seniors.  This free 3-day, 2-night program provides participants an opportunity to experience the university environment and campus life at UC San Diego, network with other admitted high school seniors and current college students and learn about campus resources. Participants will be paired up with a current UC San Diego undergraduate who will serve as their host and mentor throughout the duration of the program.
To learn more about the Overnight Program, please click here
---
Right now, seniors are applying to college, worried about where they're going to go for the next four years. This is a huge decision for many, and it can cause so much anxiety and stress. We were once at that stage in your life and just because we are here in college now doesn't mean we should forget to help the ones that are still on their way. It's more than just an experience to show them the school, it's an opportunity to provide yourself as a resource to mentor/femtor a student currently in the process of transitioning out of high school, and empower them to pursue higher education. WE NEED YOUR HELP TO BE A HOST TO THESE STUDENTS! Requirements: Anyone that lives on campus, any year, no experience necessary. ***Applications must be submitted by January 20, NO LATE RESPONSES ACCEPTED.
If you have any questions, please refer to this FAQ or refer them to Malka and Jocelyn at overnightspacesucsd@gmail.com
Application Instructions
To apply, complete the 2019 Overnight Program Host Application here. You must sign-in through Single Sign-on (SSO) using your PID and Password.
Select (1) of the three tracks to participate in. To learn more about each track, click here.
Only thoroughly completed applications will be considered. Applications are due by 8:00am on January 22, 2019.
---
Have general questions?
Please see the Host Frequently Asked Questions.
Contact SPACES: overnightspacesucsd@gmail.com or 858-239-9246
For track-specific information, please contact the respective office:
BSU: 858-534-0471; brc@ucsd.edu | IDEA: 858-822-3778; idea@ucsd.edu
SPICEE: 858-239-9246; overnightspacesucsd@gmail.com