Raquel Lara
she/her/hers

Position:
Chair, MEChA
Email:
mechadeucsd69@gmail.com
Major:
Physiology and Neuroscience
Career Goals:
MD and PhD/ Neurosurgeon and Researcher
If you could kick it with a celebrity, who would it be and what would you do?
none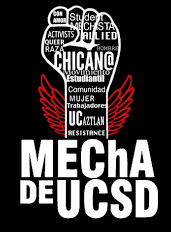 Movimiento Estudiantil Chicanola de Aztlan (MECHA)
M.E.Ch.A. has weekly meetings every Monday from 5-6:20 at the CCC Comunidad Room.